THE IDOLM@STER M@STERS OF IDOL WORLD!! Pre-Live Experience - THE IDOLM@STER MOVIE
---
Posted on March 17, 2014
---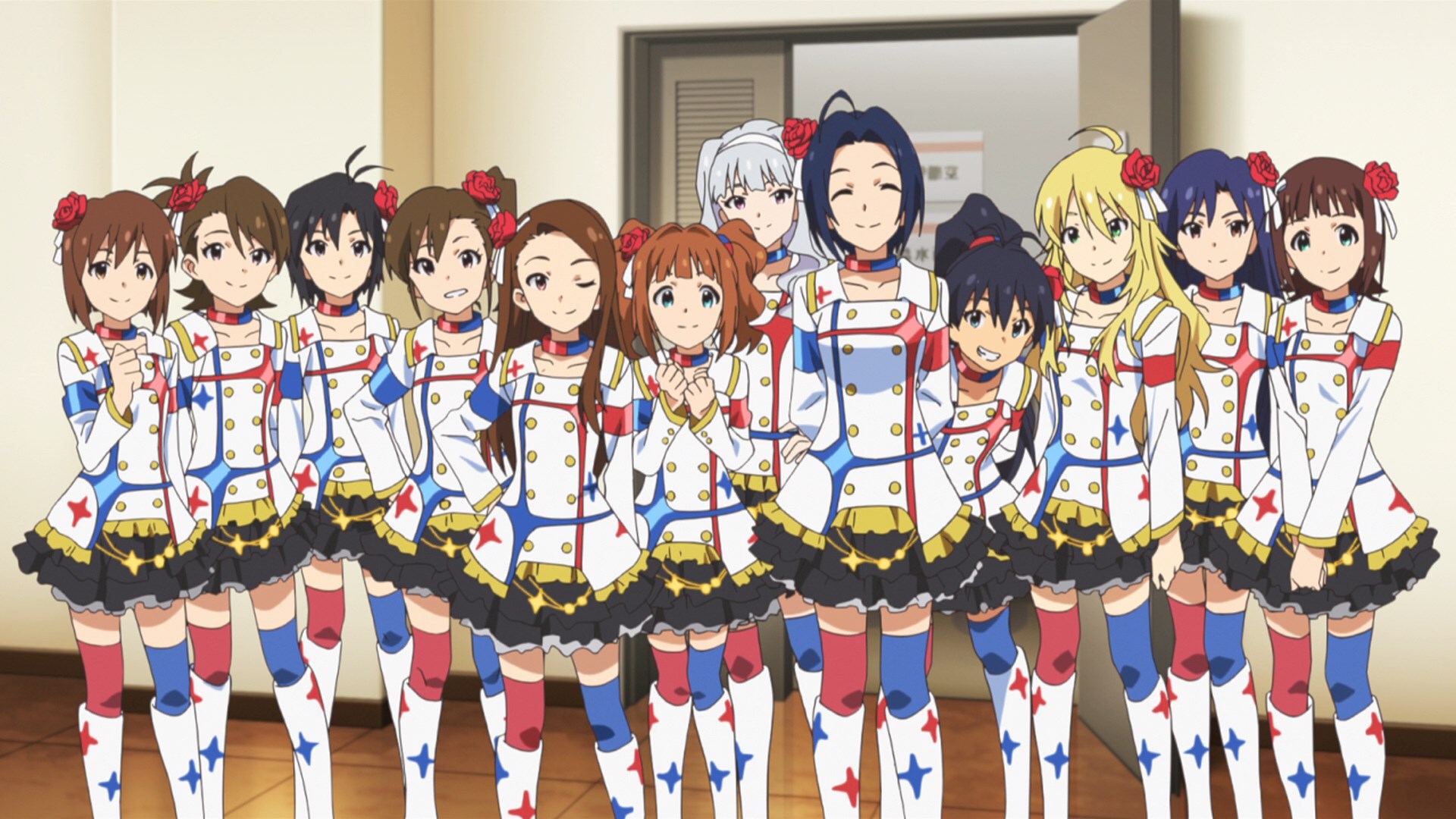 ---
It's not everyday a casual Producer can say that they've been an Idolm@ster live performance but boy does it FEEL SO GOOD. I can't ask for a better first Idolm@ster Live. I can't even imagine the next live that would come close to IMAS SSA in terms of, for lack of better word, awesomeness. It was great. Everything was great. Every part of it was great. Everything that took place before, after, during, and leading to it was great….which leads me to a problem: where do I even start narrating this experience? There's just simply too many things going on to keep track and to take note of. It's rather overwhelming and fact that I'm trying to dump all my thoughts into this single post is not helping a bit!
Fortunately, like in most of my Producer-related endeavors, I was rarely alone. After talking to a Japanese HibikiP who is currently studying in Ireland (who in the process could not attend IMAS SSA),  I was able to somehow organize my thoughts. It was mentioned during the 5-hour conversation that THE IDOLM@STER 7th ANNIVERSARY is similar to THE IDOLM@STER M@STERS OF IDOL WORLD!! 2014 in that both were preceded by animation releases: The Idolm@ster anime for the former and The Idolm@ster movie for the latter. It was at this point that I realized that the road to Imas SSA actually began with the Idolm@ster movie. So I guess I will start here…with minimal spoilers of course.
@ THE IDOLM@STER MOVIE 輝きの向こう側へ!
I had the opportunity to see the movie twice: the first of which I took on the same day I landed. Much against my physical urges to sleep and/or grab a bite, I instead took a train ride a station away to the nearest theater that was showing the movie. It was the last screening of the day at a little past 21:00. I was hoping for a smooth entrance, requiring only a machine to purchase a ticket. Of course that doesn't happen as the machine served only those who have bought their tickets previously online. I had to resort to human interface of which I was trying to avoid due to my lack of faith/skill in the foreign language. Surprisingly, I was able to get my ticket without much hindrance.
At first it seemed like I had the whole theater to myself but as the opening reels to upcoming movies came on, the place was slowly populated with latecomers. Even still, there weren't that many people as I was able to claim a whole row of seats (or two or three) for myself. This worked out perfectly as I would not want to notice any potential tears rolling on my face later on. Now that I'm thinking about it in retrospect, that was probably the best decision I made that day.
As for the movie itself, there are quite a couple of things that can be said without spoiling it much. For one, the movie definitely invokes the same feelings I had when watching the series. We all know how essential unity is to 765 Production as a team and how the limits of this unity have been tested over and over again in the series (recall episode 20). You'll be relieved to know that this experience lives on in the movie and, better yet, propagates to the new-found family of 765 Pro - the Million Live girls. The movie also emphasizes the undeniable fact that Haruka is the leader. That said, we were reminded that even leaders get stumped at times, which then brings me to one of my favorites parts of the movie where Iori shined the most. Iori, I being an IoriP thought,  did a fine job of keeping everyone in check in well… difficult situations long enough until the team pulled through together. She even found a friend in one of the Million Live girls of whom I learned to like so much.
After all was said and done and as something to mark the conclusion of the movie, we were then taken along with the girls to a not only familiar and symbolic setting - a stage in an arena. Here, they not only stood as idols but also, for the first time, as dancers. At this point, it was already difficult to get hold of one's self while bracing for the surge of 'feels' as a result of their in-concert in-movie performance. I was already aware that they were going to sing M@STERPIECE. I was also aware that this song was significant in that it transcends the movie. No, I'm not a stranger to this kind of 'feel' as I've experienced it already towards the conclusion of anim@s. I felt very confident in my emotional preparation.
Then they sang M@STERPIECE and I….was anything but prepared: the eyes were teary, the nose was runny, and the heart was very unstable. And you know what, all of these reactions were great! Up until then, I didn't quite buy the concept of 'tears of joy'. Now I know better, thanks to the overpowering atmosphere of unity through the song. M@STERPIECE, I thought, is one of those songs I've likened to READY!! and CHANGE!!!! and probably my favorite type of songs throughout the Idolm@ster audio library due to the simple fact that everybody is in it. This pretty much sealed the whole deal with the movie for me. As if that wasn't already enough, we were treated to seeing scenes of our favorite Million Live and Cinderella Girl characters. Not going to specify but I certainly saw a couple of my favorites.
If I have to add other things that I liked about the movie, it would be the Million Live girl's outfit during the concert. I already love the white and black motif of the 765Pro girls' concert costumes but man, those black backup dancer outfits are really a feast for these pair of eyes. They're short, simple, effective, and most importantly….VERY HOT.
@ THE IDOLM@STER MOVIE 輝きの向こう側へ! - THE IDOLM@STER M@STERS OF IDOL WORLD!! DAY 1 Showing
I was given another chance to see the movie for the second time at the same venue on the first day of live performance. Only this time around, I was accompanied by familiar Ps as well as others fellow Ps in the theater. In stark contrast to my first run, the showing was rather unique in that almost everybody who was watching carried a cyalume/penlight of sorts and were doing calls for whatever songs were featured. There were also folks who called out inside jokes to rhetorical dialogues from the movie to which everyone chuckled. It was simply an experience like no other. I mean how many times have you walked in a theater that's lit up in multiple colors by penlights alone?
---
At this point I've realized that I've written more than what I thought was capable and still somehow managed to omit the main point of this post that is the Idolm@ster SSA live report. So my next post will be just that. Hopefully I can whip it out as soon as possible. We'll see.